1 tag
2 tags
Decide What To Be and Go Be It.
"If you're loved by someone, you're never rejected. Decide what to be and go be it." - Avett Brothers This lyric from Head Full Of Doubt / Road Full Of Promise by the Avett Brothers has really resonated with me recently.  Why?  Because we all struggle with doubt at times and feel like we are not where we want to be.  It's easy to see the glass as half empty. But the...
1 tag
The Waiting Is The Hardest Part
Often because of scheduling, production times, 3rd party involvement or other outside factors, we find ourselves in a holding pattern, waiting for our hard work on whatever "that project" is to come to fruition.  It can be a very difficult and often discouraging time because you feel like you're in limbo.  With the evolution of technology and instant everything, we as a society...
4 tags
Your Marketing Needs A Little "Human Touch"
Yesterday as I was running with my iPod on shuffle, Bruce Springsteen's Human Touch came on and totally captivated me.  It's a great classic song but as I thought about it further there were some key elements that we can take note of that relate to our jobs as marketers.  I know, strange comparison, but let me explain. The song starts with basic music production that surrounds...
5 tags
Follow Passion, Make Meaning
Yesterday, I had the opportunity and pleasure of speaking on the phone with Joey Reiman, founder of Brighthouse and author or Thinking For A Living - Creating Ideas That Revitalize Your Business, Career and Life in which he coined the term "Ideation".  Throughout his incredible career, he has successfully guided businesses such as Coca-Cola, McDonald's and Rubbermaid to find and...
2 tags
We Create Inspiration
Inspiration is a funny thing.  It can come from the most random places and often when we least expect it. I believe this is why people "wait for inspiration to strike" or "create when they are inspired" which is all well and good.  What if you create for a living though? There are deadlines.  Expectations have to be met.  You can't afford to "wait for...
3 tags
Are You Creating With Purpose?
…or just being creative to be creative? Both types of creativity are good but it is important to ask the question. When we create for business purposes like marketing, branding, advertising, content creation, social engagement etc. we need to filter our creativity through the eyes of the consumer and the objectives of the business we are serving. We have to make sure our creation serves...
3 tags
When You Put A Name With The Face.
Every morning as I drive to work, I pass a guy on Belmont Boulevard smiling, waving and selling homeless papers.  His joy always makes me smile but I've never stopped to buy one. This morning, however, I was stopped at the light right next to him so I decided to buy a paper and support him.  As I talked to him for a few seconds, I found out his name is George.  Every day prior that I have...
3 tags
We're All In Sales.
Did you know?  No matter what your position, loading docks, answering phones or taking care of blue chip clients all day, you are in sales.  Your attitude about your work tells a story.  How you interact with your coworkers and/or customers as well as how you talk about your company outside of work are all likely indications of the quality of your company and its products or services. In this...
Watch
I wanted to share my talk from Podcamp Nashville 2011 with you. Get Real: Creating Authenticity Online Enjoy! -JB
What Is Authenticity?
Wikipedia says - Authenticity refers to the truthfulness of origins, attributions, commitments, sincerity, devotion, and intentions. Dictionary.com says - Authentic is not false or copied; genuine or real. I say Authenticity is the "special sauce" for connecting with your audience. Are you being Authentic?
3 tags
Take a break!
Work hard. Crush it. Do everything in your power to be the best you can be. It's important. What's also very important is rest. Your body and your brain cannot possibly run forever at the frantic pace you set. There are countless studies that show that workers who get enough sleep, take frequent scheduled breaks and use their vacation time each year are exponentially more productive...
2 tags
People Are The Key
These days there is so much emphasis on technology in marketing that often times we forget that technology must be used by people to connect with people. It's still all about people!  So how do you make your marketing, advertising, social media etc. connect? You guessed it… people. I believe it starts with the company and how well it takes care of it's people.  This includes the...
2 tags
3 tags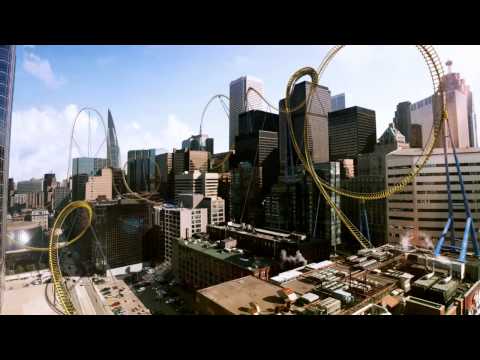 4 tags
What is #winning to you?
So Charlie Sheen got a million+ followers on Twitter in 24 hours… big freaking deal! It's just a number. It also represents an opportunity, but how he uses it remains to be seen. The modern marketing world seems to buzz around popularity. Companies will boast numbers about Facebook "likes" or Twitter followers or email sign ups but when you ask them about their ROI, often...
3 tags
Best
I want something. I want it bad. Does that mean I'll get it? Not necessarily… but hopefully! I have the skills. I have the creativity. I have the drive. But not everything is up to me. When it does or doesn't happen though, I want to be able to say: "I did everything within my capability, creativity and drive to achieve it and so it is ok that it did or didn't...
5 tags
Push Through!
Roadblocks exist for a reason… to keep the masses out. Most people simply give up when they hit one. They say, "If the road is blocked, what's the point in going down the road at all?" There are precious few who dare to question the roadblock, push the boundaries and figure out a way over, under or around it. These are the people who end up doing something remarkable. ...
4 tags
Go Start Something!
Got an idea?  Is it really feasible to make it become reality?  You bet! This country was built by the hands of people who dared to dream and do things others thought dumb, impossible or fill in the blank. People starting something is what made this country great. Now in the face of economic hard times, it's the innovators who will change the world.  They, we, YOU will be the ones to find...
4 tags
What Would You Do If You Couldn't #Fail
What would you do if it were impossible for you to fail? What would your life look like? Would it be much different than what you are doing right now? If yes, I say you're going the wrong way! STOP!!! If failure is out of the picture, then fear is out of the picture. If fear is out of the picture, it's reasonable to assume most people would follow their passion wherever it leads...
2 tags
Never Settle
Never settle for good. Always shoot for great. I like so many people can get caught in a certain routine, in a certain comfort level, in a certain way of doing things and settle in, not questioning if those certain things are best. Some people call this "stuck in a rut". Luckily, I am surrounded by people and books, friends and authors who challenge me to be the best me I can be....
3 tags
Treat Customers Right
Who is your most important customer? The one who spends the most? The one who is easiest to deal with? Maybe it's the one that screams the loudest about how great you are. How do you treat them? Seth Godin explains his thoughts in his latest blog post:  How should you treat your best customers?
Just Be Nice
Do you play nice? I see so many people not putting clients first these days and it kills me. They do a lot of business and make a lot of money because they have volume, but will it last? How long till the word gets out that although they got the job done, they weren't enjoyable to work with? When word does get out (and it will) what then? It's pretty hard to clean up a bad business...
#FAIL to Succeed
Do you make a habit of failing? If so, you're probably successful. The "habit" part implies that you keep trying. If you keep trying, learning as you go, you get stronger, smarter and better at the task at hand. It also builds character and perspective. The key is to never fail the same way twice. It's ok if it takes you 10 tries or a thousand. As long as you do it...
Tyranny Of The Urgent
Everything is important! Everything has to be done right now!  Really? I can be guilty of letting peoples expectations of me guide my behavior which in turn can totally derail my day. In reality though, there are few things that are truly urgent. Sure, there are important things but as long as they are addressed in a timely manner, IT'S FINE. I find the best way to manage the Tyranny Of...
Online Meet Offline
People often ask me "Why do you spend time building online relationships with people you've never met?" The answer for me is simple. I hope to meet those people face-to-face someday, some sooner than others. When we do meet, hopefully as a result of online interaction, we will have context and commonality.  Therefore, our new offline relationship will be that much easier to...
3 tags
It Matters.
Are you really doing what's in the best interest of your customer? Have you really thought about it? These are the moments that make you different. These are the moments that create raving fans. Every day we all have opportunities to rise above the status quo and do something great. Even if it's only for one person and no one will ever know, it matters. What are you doing for your...
2 tags
Am I Really Important?
My wife just got off the phone with Comcast cable company and I must say that the person on the other end of the line was great. She was very helpful, kind and adressed our problem quickly. The problem was the wait time to get to her! They put us on hold for 8 minutes with a looped recording telling us how important we are. If we're that important, hire more people to take care of us!  I...
Passion Sells
Have you ever heard the saying "He (or she) could sell ice to eskimos!"? Most likely that sales person is passionate about their "ice" and believe's it is the best "ice" out there. Do you believe in the product you are selling?  If so, it will come across in your presentation. If not, that will come across in your presentation as well. Sure there are...
2 tags
1 Week In - A Review Of Tumblr
I've been using tumblr daily for a week now to host my personal blog.  Here are my thoughts. Love the simplicity! Love the clean look. I want to love the constraints that it trades for simplicity but I'm not sure I do. Coming from a full fledged Wordpress.org blog to tumblr is tough. There are some little things that I would like to add or change like share buttons or a links/blogroll...
3 tags
Eat That Frog!
If you had a table full of the best food ever, but had to eat a frog as payment, when would you eat the frog? You could save it till last because it's so unpleasant, but then you leave the table with a bad taste in your mouth. The better solution is to eat it first, get it out of the way and end on a good note. Silly metaphor, but it works. Why do you (and I) procrastinate the unpleasant...
2 tags
Just Do It
Probably the most well known brand slogan EVER. Why? Because it's so real. It applies to everyone and we all need to hear it. So what are you waiting for? That thing you've been thinking about doing, that person you've been wanting to talk to, that life change you've been thinking of making, that dream you've been dreaming… whatever it is, JUST DO IT. You may...
1 tag
You are valuable to EVERYONE!
Yes that's right, YOU are valuable to EVERYONE. Even if you sell purple unicorns, you are valuable to everyone. How? You know people. I know people too, but we don't know all the same people. So, be a connector. This world needs connectors. Sure, we can find people on our own using the web but personal introductions trump random contacts every time.  The key is, don't use...
2 tags
Fear is silly.
They say do one thing every day that scares you but I rarely do. Why not? Am I scared? Scared that someone might say yes? Scared that my career would take off? Scared I would get to live the life I dream of? Seems silly to let a little four letter word get in my way. If you have a dream, do it. Push through. You are closer than you think. "The ultimate measure of a man is not where he...
Who Am I? Who Are You?
Is it possible to be the real you online? Are some things sacred and therefore should not be included in your online version of yourself? If things are left out, then how can someone get a complete picture of who you really are? I've been pondering this recently because I want to get to know you this year and you to get to know me. This Tumblr blog is my latest experiment. An attempt to go...